Ricoh and Adobe to Drive Digital Transformation with Flexible and Comprehensive Solutions
Ricoh chooses Adobe, one of the leaders in digital media and digital marketing solutions, to offer creative solutions, marketing, and the customer's document management to empower SME customers and corporate customers in realistically presenting digital works, as well as creating a good experience for the target group for the most effective results.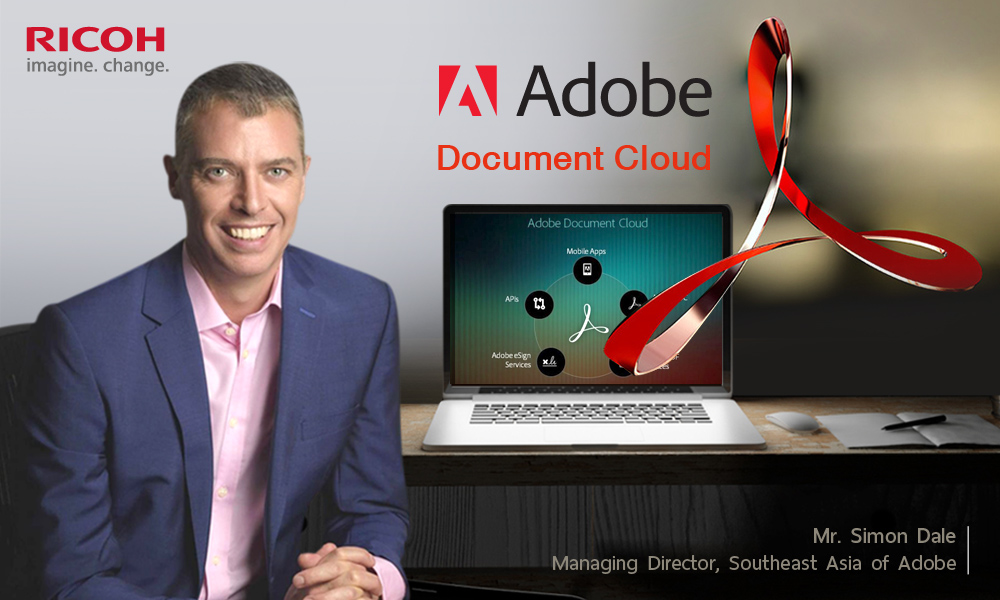 With a visionary transfer, Mr. Simon Dale, Managing Director, Southeast Asia of Adobe, said that at present, Adobe solutions are able to comprehensively enhance the customer's and business's experience whether:
Empowering Digital Business: Business organizations can trust Adobe technology in solving challenging problems on Digital Transformation. Adobe Experience Cloud platform assists the brands to maximize the use of data, drive the business growth, and always keep the customers loyal to the brands.
Accelerating Document Productivity: Adobe Document Cloud platform was developed for the users to be able to scan, edit, share, and sign the document anytime and anywhere. In this regard, Adobe is the technological pioneer in transforming paper documents into digital format with the creation of PDF.
Powering Incredible Experiences with Artificial Intelligence (AI): In the past, the design and offering of a good experience to the customers might be complicated. However, Adobe Sensei used AI and Machine Learning technology to improve the ease of such processes. It helped customers to create their works easily.
Nevertheless, Adobe had several customer groups ranging from amateur creators to small businesses, and large organizations. For professional creators, amateur creators, content creators, students, and lecturers can use Creative Cloud for Individuals which was a desktop app, mobile app, and more than 20 services for photography, design, website, UX, and others.
For business organizations, solutions such as Creative Cloud for Teams and Creative Cloud for Enterprise comprised of new features that were specially designed for business organizations and departments. The example included centralized management tools, premium technical support service, Creative Cloud Libraries which was the assistance for file sharing and team coordination, and integration with application to empower the popular business.
Document Cloud for Business is the only performance empowering solution that combined the Adobe PDF technology with Acrobat app and Adobe Sign. It allowed organizational creation and coordination with the use of documents from anywhere, and important signatures could be easily collected in one click.
Experience Cloud was the AI-driven solution for marketing, data analysis, advertisement, and trade with an all-in-one application that will help business organizations and brands to integrate content, information, and personal customization. This was to adjust the digital infrastructure for empowerment and the creation of an real-time experience for the customers.
Why Licensed Software is the Best Option for the User
In case of Creative Cloud for business organizations, having a copyright license will enhance your creativity on a centralized platform. Users can always use the latest version of the Creative Cloud app anytime and anywhere as needed with easy license management. Business organizations and departments can purchase, assign, and manage the license via Admin Console while everyone's expenses will be charged in the same bill. Adobe Stock can also be purchased and jointly used under the plan to increase the convenience of license management according to the regulations in a centralized manner.
In addition, corporate customers can require assistance whenever they needed. The support service is opened 24/7. They can request a 1:1 Expert Session twice per user per year to allow the customer's team to have decent technical expertise for the Creative Cloud app.
The Creative Cloud members can choose to either make a monthly or annual payment for service fees or choose to use only one or all apps. Additionally, they can use as many licenses as they wish to increase the flexibility of service use.
In case of applying for corporate services, this format will help increase flexibility to meet the organization and user demands whether it was for a long term, occasionally manner, or size adjustment regarding the project. All of these help our software to have easier access to individuals. It was considered as power decentralization for everybody's creativity.
A flexible license for the Acrobat DC helps the business organizations and teams to adjust the number of users and specify users based upon their business needs in real-time. It then eliminated over-budget problems and was suitable for businesses who wish to adjust or required the speedy change of business model during this crisis.