Backup System, The Essential of Every Organization
In the modern world, threats or attacks come in a variety of forms such as Ransom or Ransomware that causes huge damages to businesses, and Web Phishing that sends fake email asking the victims to fill in personal information or password that may cause damages to the organization.
Mr. Sakprasert Apiwatthanadet, Customer Success Director of Veritas Technologies Company Limited in Thailand, gave the information that every organization needed their own Backup and Recovery system because of the growing number of threats and the enforcement of Thai laws.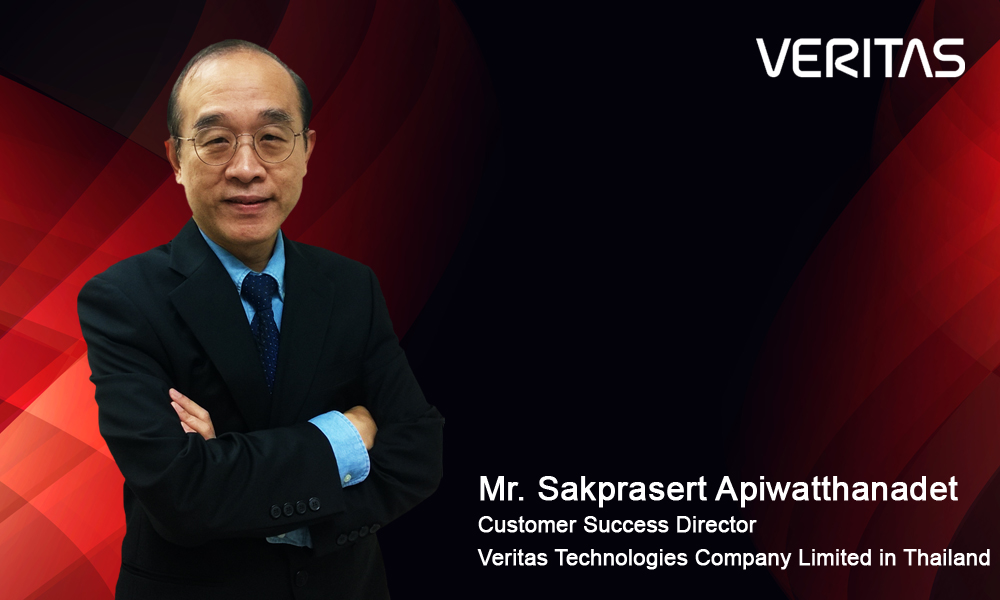 However, some organizations may previously have not built their own backup system. They may think that it was unnecessary to make such investment as several resources were required resulting in increasing costs with no clear business interests. Consequently, the system was built slowly, and it was sometimes not timely.
Recommendations
Do not assume that your business will never be attacked, especially in the era that cyber threats are so close to us, because this will be the starting point that leads the organization to place no importance on Backup and Recovery system.
Communication within the organization must be clear. The executives and the IT department must understand all operation patterns in the company and find solutions to support the development of Backup in a comprehensive manner.
Try to find solutions with AI or shift to automatic work system as much as possible to allow 24/7 work operation and reduce errors.
Another factor that made the development of Backup system more difficult was the current workload of which the amount were several times greater than before including IoT system, Big Data or AI. In addition, large organizations had branches and offices in many locations resulting in data distributed in each branch. As a result, data backup was even more difficult.
How does Veritas Backup System help our customers?
As of today, companies have the Edge to Core to Cloud operation where Edge is the data in the devices that the employees use and data in the system of the office branch, Core is the main system in the central data system, and Cloud is the operation system and data stored on Cloud. Besides, Edge Veritas comes with solutions including Desktop and Laptop Option or DLO that can process Backup from every employee's computers in the File and Folder format, and Veritas SaaS Backup for Microsoft365, Google Workspace, Salesforce. For branch system, backup can be proceeded by central administration with the use of Netbackup Virtual Appliance or Flex Appliance safely and conveniently.
Core Veritas' systems include Netbackup and Appliance that are particularly made to protect the Backup data with maximum security from Hardening and Built-in Security (IDS/IPS) resulting in easy maintenance and additional properties that allow quick Backup/Access/Restore of the main data such as Oracle, MS SQL, and VMware.
The strength of Netbackup Appliance is that it supports more than 800 Data Sources whether Traditional Workload, or very old Database, or OpenSource. In addition, it can work together with more than 60 Cloud Service Providers and support the operation with Storage of more than 1,400 Targets.
If the customer would like to keep the data for a long period of time, Veritas has Access Appliance with high capacity and cheap price to allow long-term data storage under budget constraint. Alternatively, if the customer would like to store the data on Cloud for a long period, Veritas CloudCatalyst will instantly send the data to various Cloud Service Providers such as Azure, AWS, Google Cloud Platform (GCP), IBM Cloud, etc.
Furthermore, Veritas has Monitor/Analyze system for Backup to detect risk points of Ransomware attack or prevent Ransomware from being untreated. Backup will help protect your data with highest level of security.
What Veritas' customers will receive from investment on Backup system is that the customer will not have to search for any other assisting tools. Veritas has solutions that support from Edge to Core to Cloud, can recover the system easily, has low overall costs because it supports the customer's original system, as well as can forecast future problems or unexpected situations. Veritas and Ricoh who are good partners are committed to do our best to provide Backup system service to the customers to create smooth operation for the customer organizations.