Maejo University boosts printing efficiency with production printer from RICOH
Maejo University is a tertiary education institution under the government. It produces highly efficient students who will subsequently drive society and the country. Maejo has these important components, which consist of Mindfulness, Aspiration, Excellence, Justice and Origin, which makes Maejo University become one of the most prominent universities in the North of Thailand.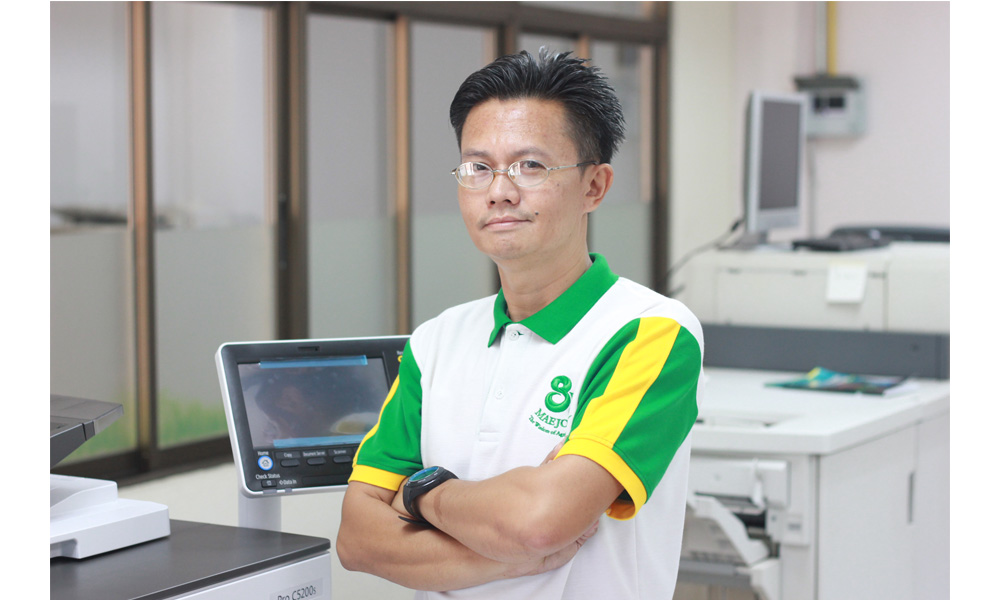 Choosing products and services from RICOH
Office of Academic Administration and Development of Maejo University is a unit which has missions regarding registration, admission, and academic support that contribute to the advancement of Maejo University. Printing academic materials is another mission in supporting teaching and learning academic materials, such as academic books, learning documents, brochures, posters, etc. Mr. Teerapon Suwan (General Officer) speaks of printing and RICOH products employed in this office.
Mr. Teerapon says that in the past, printing books, academic worksheet and research was difficult. Because the professor had to contact the printery on their own. And could not control the quantity because of off-set printery (order many papers for one time). That made the unnecessary documents plus the cost of cover's design which is unalterable. These did not include the quality which has problems of color resolution and image's sharpness.
Assoc. Dr. Thep Phongpanich (Former President) has considered the issues and decided to establish the printing office of the university to tackle the problems for teachers, ranging from designing the artwork and the cover and the layout. It is an all-in-one solution, which helps to lessen the workload of teachers. More importantly, it can be printed on demand.
At the beginning stage of the establishment, Maejo University heard of the reputation and efficiency of RICOH together with great services from RICOH staff. Therefore, the office decided to choose RICOH production printer, RICOH Pro C900s, from the beginning (10 years ago). There have been no problems. The high resolution is satisfactory, which caters to the demands. Presently, RICOH Pro C5200s is added to support more work.
Worth the investment and maximum utility
Mr. Teerapon says that the experience in using RICOH products proves that RICOH gives the best value because the printers are high-speed. Plus, the staff can print based on the amount they want and edit files. High-quality outputs give confidence to both professors and internal units who receive the service.
Moreover, RICOH production printer provides on-demand printing. This is no need to print a large quantity like before, especially books and academic worksheet which are the main work of the office. In addition, the great after-sales services provided by RICOH staff really impress the office.