Curb security and compliance concerns in today's world of care
Today's world of care is dominated by new technologies that impact the way providers communicate among themselves, other healthcare organizations and patients.
As we adopt these new technologies, we expose new areas to security and compliance risks. With stolen health records fetching an average of $3631 on the black market, it's no surprise that hospitals are a prime target of theft.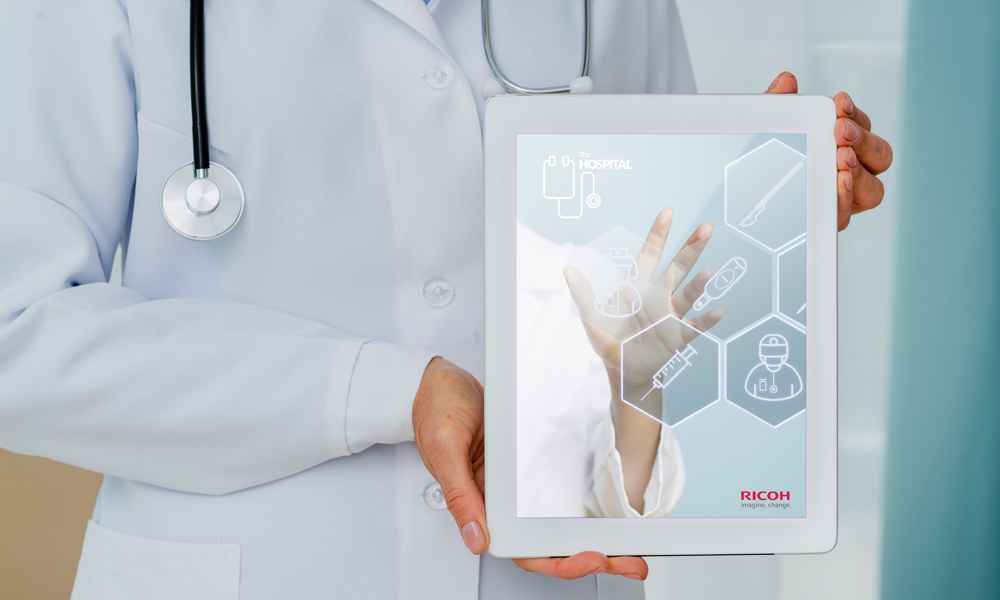 As the industry and government grapple with the best way to protect patient information, compliance requirements become increasingly complex and costly to uphold. When surveyed, 61 percent of IT healthcare respondents say meeting compliance requirements is the top IT security spending priority. However, being compliant doesn't safeguard against a breach. Compared to today's sophisticated cyber criminals, compliance standards are slow moving and often fail to stop attacks.
However, there are ways you can meet compliance goals while also preventing common security threats in this new world of care. The best part? You can cut costs, too.
Moving to a paperless system not only helps reduce risk, but it also decreases expenses related to printing.
Lose the paper trail
With today's headlines focused on hacking and ransomware scares, it's easy for hospitals to overlook breaches caused by physical theft or loss. Paper is one of the greatest threats in regards to security and compliance. While printed documents are easy to monitor, it is nearly impossible to track copied records. To protect your organization from physical document breach, capture the paper at the very beginning of the process and then get rid of the paper. Moving to a paperless system not only helps reduce risk, but it also decreases expenses related to printing. Remember to spend time creating an implementation plan to support paperless adoption among your workforce.
Protect data, proactively
One of the best ways to protect patient information is to be proactive. Many document or content management solutions are "Software as a Service" (SaaS), which means software and hardware reside in the vendor's data center and all customer data resides on the vendor's secure servers. By switching to an "Information as a Service" solution, no software or hardware is implemented at the customer site and all data stays within their enterprise – data is not transferred (or multi-tenanted) on servers in the vendor's data center. There is no IT overhead, and security and compliance risks can be greatly reduced.
Prepare for connected care
It's time to start thinking ahead. Medical professionals are doing more work on mobile devices, and providers are using more connected wearables for general health and outpatient use. This is quickly becoming a weak spot in the healthcare system and raises security concerns for the future of healthcare. Hospitals need to guard mobile data on the device, in transit and within backend systems. Enable data sharing among your workforce without compromising important IT compliance needs and make anywhere-access a key piece of your infrastructure.
Healthcare is rapidly changing, from the way care delivery is being performed, to how providers and patients are communicating. As the industry struggles to keep up with security threats, healthcare organizations face complicated compliance requirements that can be challenging to navigate. By thinking outside the regulation box and proactively focusing on smart, sophisticated and secure content management strategies, you can stay ahead in today's world of care.
Source: https://www.ricoh-usa.com/en/insights/articles/curb-security-and-compliance-concerns-in-todays-world-of-care