Optimizing collaboration: Don't get lost in the cloud
With everything the cloud can offer your business, it can be difficult to know where to start.
Cloud infrastructure and applications have a number of potential business benefits, but one of the areas of greatest potential is their ability to revolutionize business collaboration. In a global survey of 532 business executives1 from a wide range of industries, 55 percent felt that "cloud-based solutions are no mere evolution, but rather represent a true revolution in collaborative effectiveness."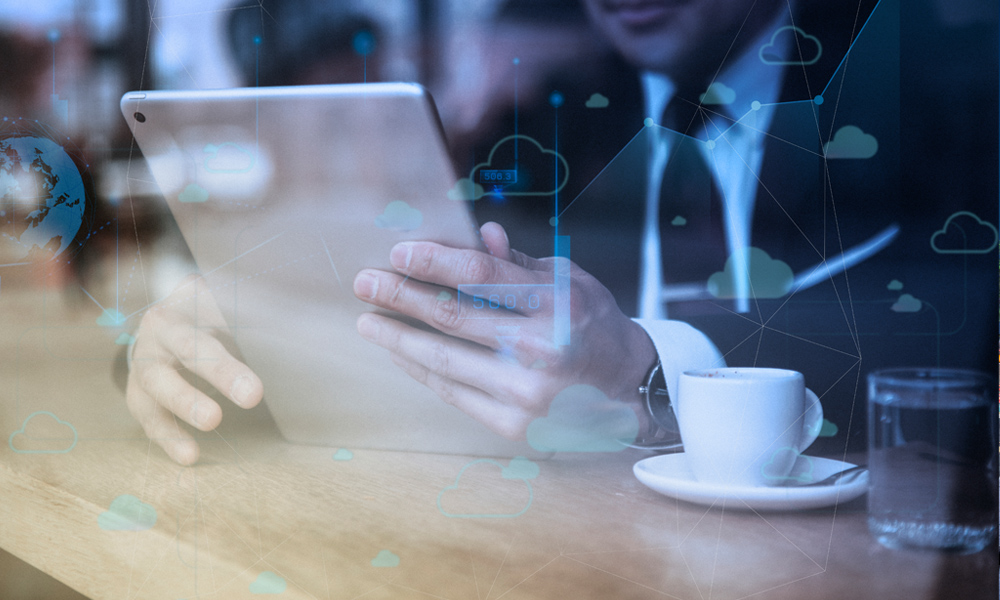 Better collaboration can increase productivity, get you closer to customers, make your products more innovative, your business more competitive, and help you attract and retain top talent. A fundamental component of growing your business, collaboration and cloud-based tools have tremendous potential to extend your reach and foster productive connection between employees and with your customers and partners.
But with so many opportunities to use cloud-based applications to improve collaboration in your business, where do you get started?
Collaboration starts from within
Reassessing and redesigning information processes is fundamental to creating a more successfully collaborative workspace, whether you're employing a cloud-based application or not. Technology alone is not a solution, and focusing your efforts here alone is a recipe for your collaboration goals to end up lost in the cloud. Instead, the key to improved workforce collaboration is in the underlying processes that enable mobile workers to access more comprehensive, accurate and timely information.
The critical first step is assessing your information processes. Identify specific tasks, and how each step contributes to the business goal you are trying to accomplish — whether that is to service customers better, generate more leads for sales, deliver more competitive products, or meet regulatory requirements. In organizations today, it is imperative to look for how the information flow does (or does not) cross Line of Business (LoB) boundaries, and potential points of integration with other processes and systems.
Bear in mind that the information needs of your mobile workforce are changing constantly, and that mobile workers have distinctly different preferences for the way they consume and use information. This has significant implications for the usability, training, and adoption of new collaboration applications, as well as the success of your collaboration initiatives.
One best practice is to actually follow one of your mobile workers through a specific process, such as onboarding a new customer or responding to a service request, step by step. Note where they get their information, if they get all they need in a timely fashion, and in the format they require.
Research has found significant gaps in how workers and managers perceive the effectiveness of their information processes. This is a prime opportunity to solicit feedback on what could help employees do their job better.
Better collaboration can increase productivity, get you closer to customers, make your products more innovative, your business more competitive, and help you attract and retain top talent.
Employee disconnect
In a Forrester study2 commissioned by Ricoh, by a factor of more than 2 to 1 over their managers, customer-facing workers felt constrained by "older systems" that sometimes forced customers to communicate with the company in ways they didn't want to. On the other hand, by a factor of nearly 3 to 1, managers thought their customer-facing workers communicated well with customers through both old and new channels. That's a huge disconnect, and if it's the same way inside your organization, it's very likely hurting your business relationship with your customers.
We have found that many information processes have simply not kept pace with what employees need — or customers want. And it might be time for you to take a look internally to see what you find. You may discover:
Steps that are no longer required or aren't a high priority
Information that's available but not timely or in an easily accessible format
Gaps in information available from other systems
Processes that are clearly not defined as part of your core competence
To combat these issues, there are benefits to making use of the broad industry — and cross-departmental experience — of a document process consultant. They have seen and dealt with many of the real-world information management challenges inherent in optimizing information processes, which can include everything from dealing with complex privacy regulations across industries and countries, or handling the internal aspects of change management, including education, training and morale.
An outside party can also look more broadly across departments and functions, bringing to bear lessons from multiple engagements across industries and geographies. They can often bring a new perspective to the way you've been approaching a problem.
Cloud-based collaboration tools can certainly help you grow your company, but clearly defining your business goals and mapping your process needs must come first. Remember that with every technological element, it's still the people behind it who matter most. With help, you can stay grounded and make sure you don't get lost in the cloud.
Source : https://www.ricoh-usa.com/en/insights/articles/optimizing-collaboration