RICOH multifunction copiers (MFPs) comply with the National Broadcasting and Telecommunications Commission (NBTC) rules
In accordance with the Supplier Declaration of Conformity (SDoC), Part 4 of the Notification of the National Broadcasting and Telecommunications Commission (NBTC) on Criteria and Procedures for Radio Communications and Television Broadcasting Equipments B.E. 2556 (2013), multifunction copiers (MFPs) require compliance as the copiers have a low risk to cause or receive interference such as WiFi (2.4 GHz and 5 GH) and Bluetooth.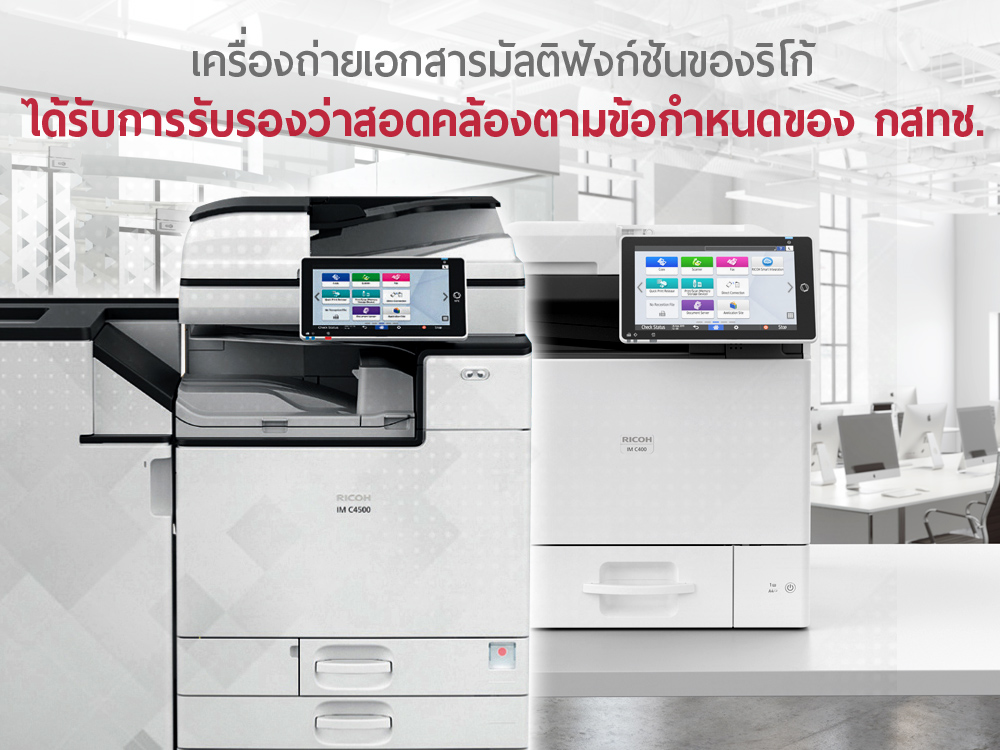 Accordingly, Ricoh has submitted the SDoC form with product information of RICOH IM C2000/C2500/C3000/C3500/C4500/C6000 and RICOH IM C300/C300F/C400F to the NBTC to declare the Conformity with Technical Specification/Regulation No. NBTC TS 1035-2562. Ricoh also plans to submit the SDoC form for other products in order to assure that our products and services meet the requirements, rules and standards of both government and private sectors, ensuring that high-quality products and services are delivered to the customers.
About Ricoh
Ricoh is empowering digital workplaces using innovative technologies and services enabling individuals to work smarter. For more than 80 years, Ricoh has been driving innovation and is a leading provider of document management solutions, IT services, communications services, commercial and industrial printing, and industrial systems.
Headquartered in Tokyo, Ricoh Group operates in approximately 200 countries and regions. In the financial year ended March 2020, Ricoh Group had worldwide sales of 2,008 billion yen (approx. 18.5 billion USD).
For further information, please visit http://www.ricoh.co.th