Pursuing the ideal society (Three Ps BalanceTM)
We need to reduce the environmental impact of mankind's economic activities to a level that the Earth's self-recovery capabilities can deal with.
The purpose of environmental conservation activities is to reduce environmental impact to a level that the Earth's selfrecovery capabilities can deal with and sustain the global environment. The Ricoh Group, by considering how the relationship among the three Ps (planet, people, and Prosperity) in environmental, social, and economic activities has changed over time, defines the kind of society we should pursue and carries out its responsibility as a company to create such a society.
The Ricoh group's efforts toward achieving the ideal society
Ultimately, our goal is to help build a society in which the impact on its environment is maintained at a level that never exceeds the Earth's self-recovery capabilities. To make this happen, more than merely implementing environmental conservation activities is necessary; society needs to formulate clear-cut long-term visions and goals that will guide the specific actions required.
At the Ricoh Group, we have set environmental goals for 2030 and 2050 as milestones toward the final goal. We also determine Environmental Action Plans every three years and promote sustainable environmental management.
In order to contribute to the future of the global environment and society, the Ricoh Group will make efforts with focus on long-term vision and clear goals.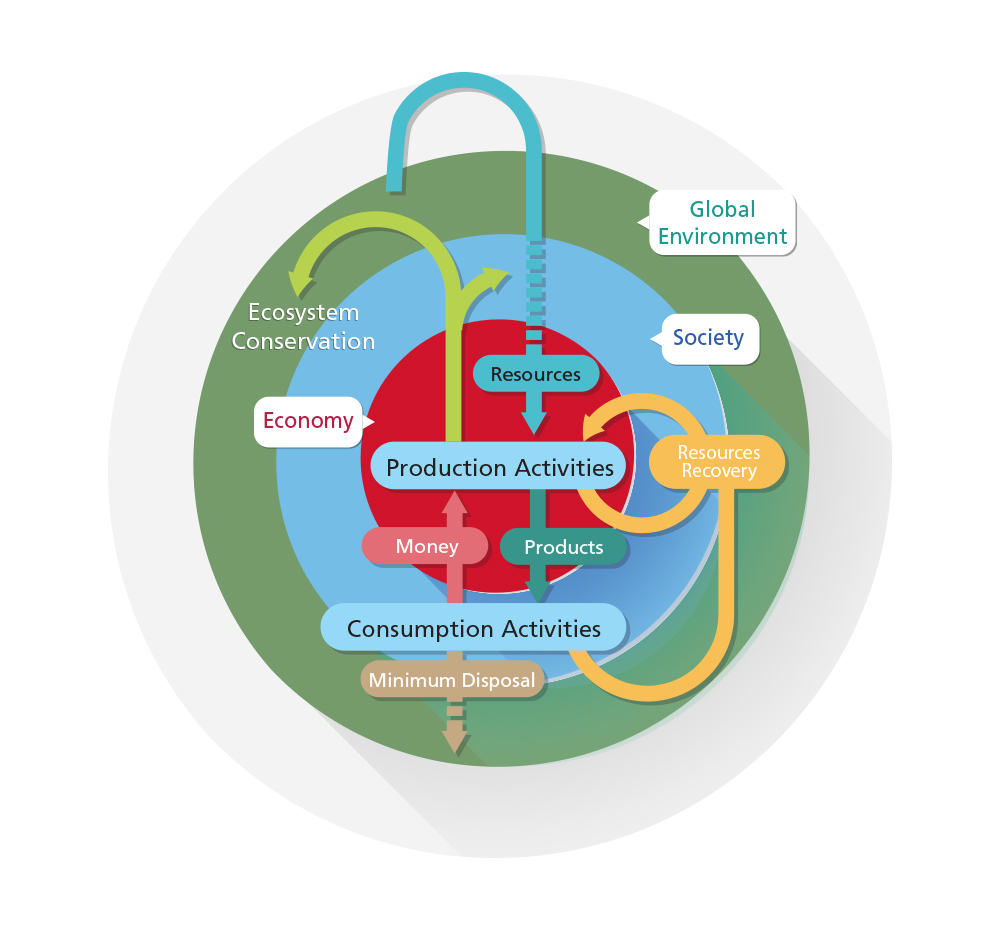 Environment impact remains within the self-recovery capabilities of the global environment.
Energy saving-Renewable energy
RTH set the action plan for renewable energy usage since 2018 as following the Ricoh group policy on CO2 emission reduction and RE 100 commitment. The solar cell of lighting system at car park are installed as the first kick off of the renewable energy usage in RTH.
We continue to find out the solution of energy conservation to achieve the environmental goal and SDGs action.

Pollution control
MSDS
"Chemical substance is a useful thing to make life rich and comfortable. But it is also a hazardous and dangerous thing if misusing it. For that, SDS (Safety Data Sheet) describes its property and an emergency measures in the case of accident so that people understand its property correctly and use it safely.
Thai green label
"The products of RTH, 100% of MFP,are certiifed the eco label of Thailand, Thai green label (TGL), by Thailand Environmental Institute (TEI) to confirm the whole life cycle of Ricoh products are friendly to environmental"
Biodiversity conservation
"The biodiversity conservation activities of RTH are conducted as the part of green and safety month on World environmental day each year for recovering the ecology in the community such as tree planting, canal conservation, artificial coral planting etc. and also encourage awareness RTH staffs on environmental conservation as target of environmental sustainable development and SDGs action."