Emphasize the Importance of Business Data Center in the Digital Era
In the era where every organization has to rely on technology to create new innovations, the essential element is the Data Center system which will be the key of the processing method and enormous data storage. However, building your own Data Center is not an easy task. It needs to rely on experts in various fields, both the server system, cooling system, and, most importantly, the electric system.
Schneider Electric, one of Ricoh's partners who is the leader of digital transformation in terms of energy management and automation system, has expertise in the electric system and Uninterruptible Power Supply system. There are 4 main market groups: building, data center, industry, and infrastructure.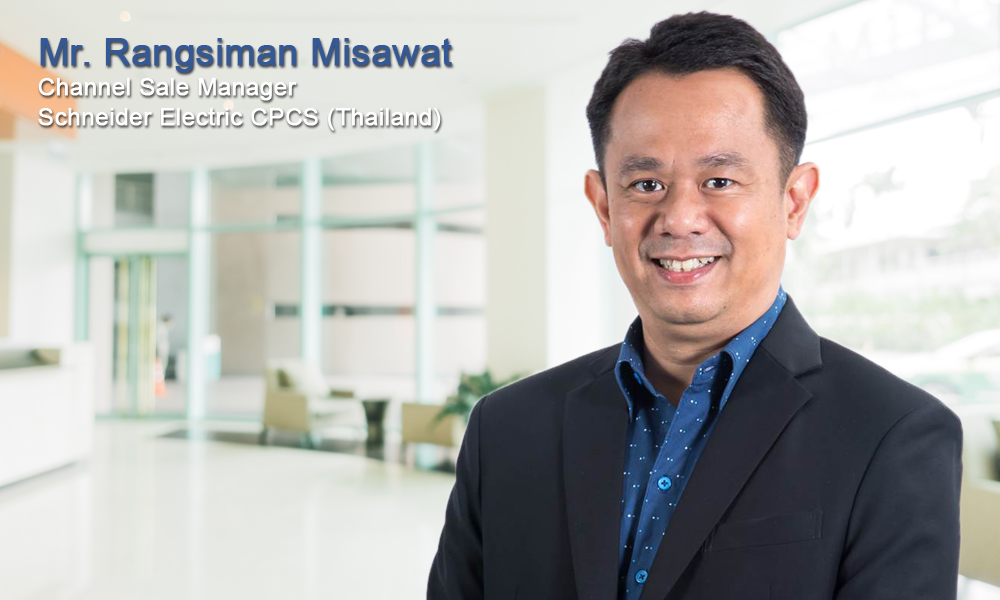 Mr. Rangsiman Misawat, Channel Sale Manager of Schneider Electric CPCS (Thailand) Company Limited, revealed that speaking of Schneider Electric Data Center, we were talking about Power Protection system from UPS, Cooling system, Rack system, and software systems that help manage these facilities to ensure that the tools in the Data Center were always protected. At present, IOT & Cloud & Edge Computing had changed the form of Data Center, and we may divide them into 3 main groups as follows.
Group 1 : Edge Data Center was a one-rack Data Center for IT application covering from wall cabinet rack to standard 42U height rack. The use of this format was increasing since the businesses began to develop IT for sales promotion, marketing, and a variety of services such as financial business group, and retail business group especially those with branches.
Group 2 : was a Data Center room with IT devices of not more than 10 cabinet racks, most of which were Computer rooms built in the office building without proper design or structure. The existing space was sectioned to make a computer room. Thereby, suitable technologies and devices shall be selected to meet the area limitation and room structure. For example, UPS with Li-On battery which was much smaller and lighter may be used instead of finding space for lead-acid battery which was large and reinforcing the room structure to support the traditional battery weight, etc.
Group 3 : was medium to large computer rooms of more than 100 racks for the business group with huge data storage such as financial business group and Data Center Cloud/Colo/Telecom rental group. To build a medium to large Data Center, it usually required specific planning from searching for the building site for the highest safety and standard. The technology used for this type of Data Center was not only for security but also the performance of the entire system. It was another key variable because even a few % of operating cost savings in huge power and data center was related to high business costs. Schneider always recommended facility management software such as EcoStruxure IT.
UPS, The Key of Data Center
As UPS functioned to protect all types of electrical interference, from undervoltage, overvoltage, and power outages, it allowed the connected devices to work continuously. The same level of necessity applied with other IT and electric devices. Nonetheless, if it was not used, it meant we accepted the possible risks such as data loss, the restart of some applications, rendering, or waiting for server reboot that took a long time. Additionally, we had to bear the risks of hardware malfunction. All mentioned above could cause significant damages to the business. With meticulous calculation and comparison, it could be found that the loss incurred from a single outage (in large businesses) was much greater than investment in the UPS system.
Strengths of Schneider Data Center
With incessant experience, Schneider Electric had developed UPS technology and cooling system for Data Center to offer high reliability, performance, quality, and efficiency. Therefore, the customers could be confident that the product was even more durable and economical.
Considering the entire Data Center system from designing to integrated use, Schneider Electric had Design & Operate professional teams. With branches in many countries, you could be confident that the designed Data Center was equipped with the newest technology and met your demands.
Schneider Electric once solved the problem for a case in which the issue was an indecent airflow system. The cooling system did not work thoroughly resulting in heat in some locations and device failure from time to time. We then thoroughly proceeded the inspection and correction. It could be seen that this example was not only involved with good device selection and proper room design but also related to experience and precise problem analysis. Those elements made the design of the Data Center room complete.
Currently, Schneider Electric had both public and private customer groups. Although they had different demands with regards to Data Center size, area size, UPS requirements, and cooling system, the organization could provide the services for each customer's demands at our full capacity.