Ricoh and VmWare to Drive the Business in Digital Age
In the Digital Transformation era, Ricoh needs to seek a business model that can offer the technology and innovation to enhance the customer's performance. Ricoh always provides solutions such as the Cloud Platform of VmWare, etc. until we can increase the profitability and maintain the same customer base.
To increase the profits and keep the old customer base.
Mr. Ekpawin Sukanan, Manager of VmWare (Thailand) Company Limited gave crucial information on Thai businesses that needed to urgently adjust during the time of distress whilst prepare for rapid changes and needed to use technology to improve the operational pattern, and on-point access to customers. In this regard, the Cloud Platform was the technology behind the current success of many organizations.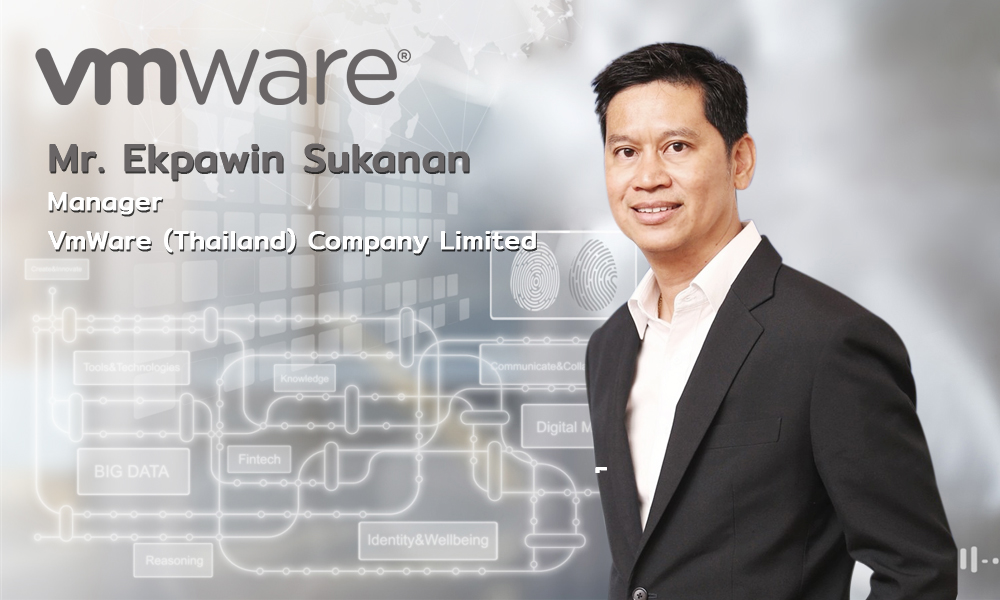 Many might understand that VmWare is the only Virtualization, but it is genuinely important infrastructure software that makes the customers ready for the future to link things together especially during the crisis when many organizations had to procced with Digital Workplace and Digital Transformation.
The competition among current businesses will be processed via Cloud where the data will then be sent to the customers directly to allow the customers to get a good experience about products and services. It is a creation of a comparative advantage for the business. However, it is unfortunate that traditional data analysis for infrastructure did not quite meet the requirements due to some limitations.
Consequently, the Virtualization of VmWare had a role that could connect data processing from anything from Data Center To Cloud To Edge and To Device to support businesses that wish to create a new business model. VmWare began Virtualization in small IoT microchips for application in future business such as self-driving cars or other smart devices.
What Types of Organizations Should Use VmWare?
At present, VmWare customers are in every industry whether Banking, Financial, Retail, Telco, and Healthcare. It depends on the business whether to use Virtualization in what format. For instance, the Healthcare business must change to Telemedicine and Tselehealth to reduce the pandemic and maximize access to customers.
An example of a successful business from using of VmWare was an insurance company forced to implement Work From Home policy because of the COVID-19 situation. Both the executives and employees had never seen such a situation before. However, the executives must work from home and be able to sign important documents through several secure Workflow. This was the challenge that took VmWare only 1 month to develop the system to accommodate more than 1,000 employees in this company.
Additionally, if the employees had to work from home, employee identity verification was important. VmWare together with Ricoh created a Workspace 1 solution that verified the identity of the other end. It was identity verification before making contact. As a result, the organization could keep the information both on personal computers, and mobile devices reducing the concerns on the employee device loss.
Another successful case was a BBQ restaurant that was closed because of a government order. The restaurant had to find new ways to access the customer group with the idea to develop an application based on VmWare Cloud, and it took only 3 days for completion. From the mentioned examples, it could be seen that business flexibility and agility was the key to use innovation to meet the demands and have access to the employees and customers in a timely manner.
What Business Scales are Suitable for VmWare?
VmWare had packages that supported Small office businesses to large businesses, comprehensive solutions such as Multi Cloud, Work From Home Solution in terms of Security, Cloud Native Application, and Connectivity to link Cloud service providers worldwide. There should be no worries about a great amount of investment. You could choose any packages based on your requirements.
Nevertheless, for businesses who wish to achieve Digital Transformation or make rapid changes in the business, Mr. Sukanan recommended that security matters should not be overlooked. This was because, if we connected with devices, the security service must also operate with the same extent of importance. For some parts, investment in security did not need to be expensive. For example, to store data on Cloud, if there was data leakage, the organization was not liable for such data because we stored it with the service provider. It was also a risk mitigation for the organization.