Room Booking
Meeting room booking software "Condeco" helps manage the meeting room booking system. Save time for managing and tracking meeting rooms status yet enhance your meeting rooms efficiency.
Create an intelligent workplace with "Condeco" a management and booking system of meeting rooms. The display shows the meeting, host, starting and ending times. Remove confusion and allow everyone to check the meeting and status daily through the dashboard. The display panel presents booking status with a green, yellow and red sign. With the connection with room booking software, you can ensure workspace readiness and management. Support you to work professionally.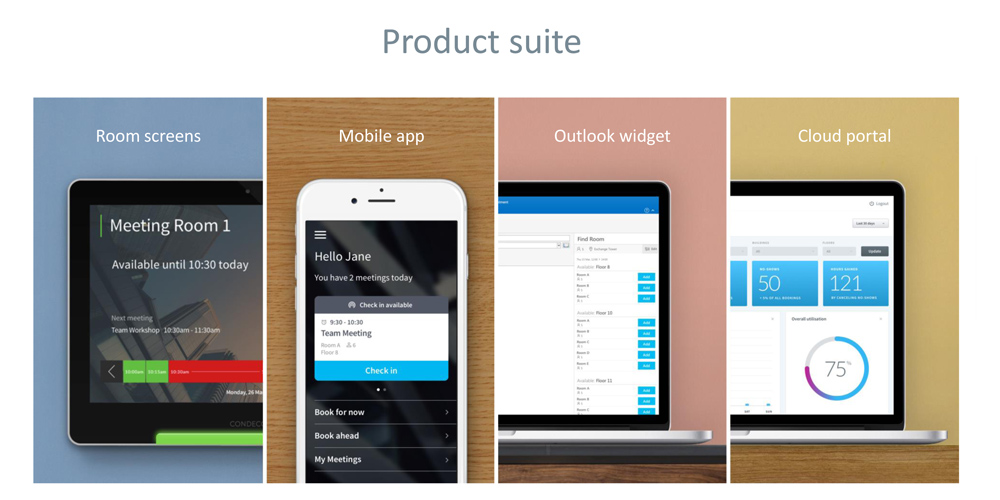 Display the meeting room usage status with details on the booking screen.

Create a brand image by supporting customized background on the booking screen.
The display shows the reservation information.

The meeting details, booking name, date, and time will be presented on the high-resolution display panel, supporting the RFID card.

Overview of booking via Dashboard

See the room availability and usage in real-time through the Concedo Dashboard, helping meeting room management effectively.

Release unused space if users don't check in.

Condeco's meeting room reservation system will confirm the booking information when the booker checks in via the display panel. The booking will be canceled and available to book if there's no check-in in time.

Meeting room usage

Users can export room usage reports to gather meeting information. Help the organization or business understand how the room is used and who attends the meeting.

Meeting room reservations via mobile phone acceptance.

Book meeting room on-the-go with mobile app on IOS and Android.

Feature Wayfinder

The room status will be showed through Wayfinder which allows all users to monitor all rooms in the organization from a single screen.