BERNINA chooses RICOH to raise the standard of printing sewing machine handbooks
BERNINA is one of the global brands which produce efficient and high quality sewing machines, gaining confidence from customers for 125 years. Nowadays, BERNINA has factories both in Switzerland and Thailand (based on Switzerland's standard of production).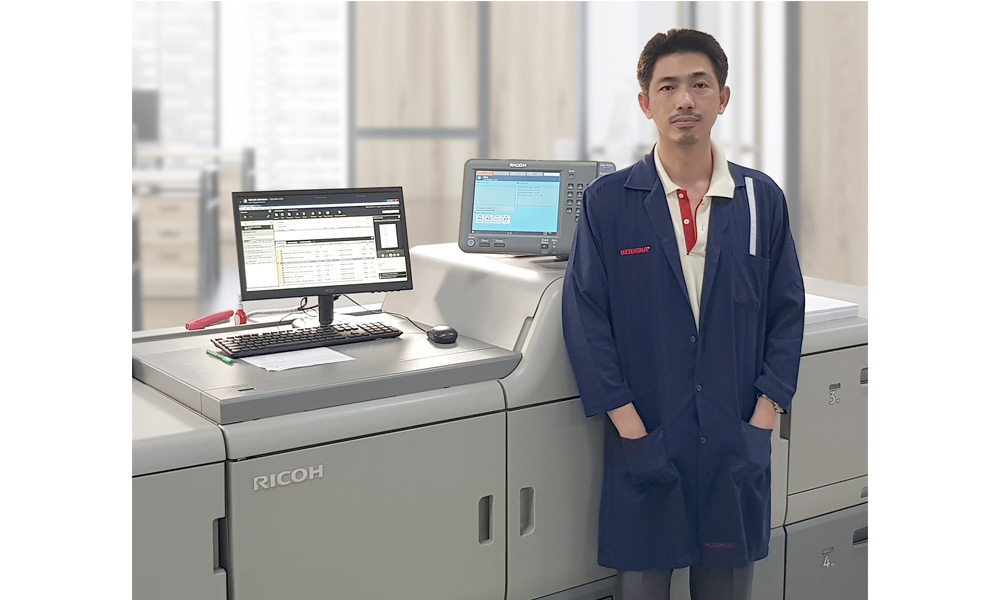 Mr. Jakkrit Chaisombut, Section Head of Material Handling of BERNINA Thailand, says that apart from the 125-year reputation, what makes BERNINA outstanding and different as a sewing machine producer is cost control and efficiency enhancement. BERNINA products are the representation of precision, perfection and durability. The company highlights the importance of every step of its production (spare parts, sewing machine, documents and handbooks).

BERNINA prints handbooks and documents itself to be able to control the best quality before handing to its customers. The company would like every customer to receive handbooks and documents with clear details and beautiful images which are printed by a world-class printer. The printing process should also be environmentally friendly and have a good quality control to create the best quality outputs.
Confidently choosing RICOH as a printing assistant
BERNINA has set the goal to be the best in printing sewing machine handbooks with a high-quality procedure and with zero defect. Moreover, there is no excess stock. Therefore, this printing process is called "Print on Demand".
According to the above vision, BERNINA has collaborated with RICOH to install RICOH production printer, RICOH Pro C7110, for printing handbooks and documents since BERNINA sees RICOH as a professional provider of high-technology, excellent printing management, and great services, which contributes to BERNINA's success. It is not necessary for the company to order handbooks and documents from domestic and overseas suppliers, resulting in the reduction of procedure, purchasing time, transportation cost and document storage cost. All the "Print on Demand" procedure is in accordance with the quality agreement of the company.
Presently, BERNINA print more than 3,000,000 pages/year (beyond the set target of 1,000,000 pages/year). Therefore, the company considered buying the second production printer, RICOH Pro C7100x, for supporting the increased amount of work. Of course, BERNINA still opted for RICOH.
RICOH is a trusted partner
BERNINA and RICOH are like partners, working together from choosing printer models, calculating printing cost, managing the installation of printers as well as training staff. This leads to a smooth and successful operation and quick response to production and customer's demands.
Good value and good benefits
RICOH allocates professional staff to take care of its customers around the clock and bring specialists to train BERNINA's staff regarding printing techniques, resulting in a high level of the staff's printing skill. This helps to reduce cost and procedures in the company, contributing to more efficiency.