Make the difference with premium printing
The trend of printing demand comes in various forms focusing on quality and difference. Accordingly, it became the main reason that made the integrated printing business to adjust itself by choosing trustworthy technology that could produce works to meet the customer demand.
Mr. Praphakon Burana, Owner of C2S Express Company Limited, who has provided printing services for more than 14 years, said that customers tend to demand high-quality prints with variety and uniqueness. Thereby, the company needed to obtain printers that met the requirements of the customers in both public and private sectors.
That was the main reason why C2S Express chose Ricoh services from the beginning of business operation because Ricoh supported prints with a high-resolution digital system, delivered colorful prints with decent color standards, and could provide services to the main customers including the early-stage business group.
The incoming customer requirements resulted in various forms of development for prints, stickers, product labels, packaging boxes, document files, and plastic envelopes that were in demand.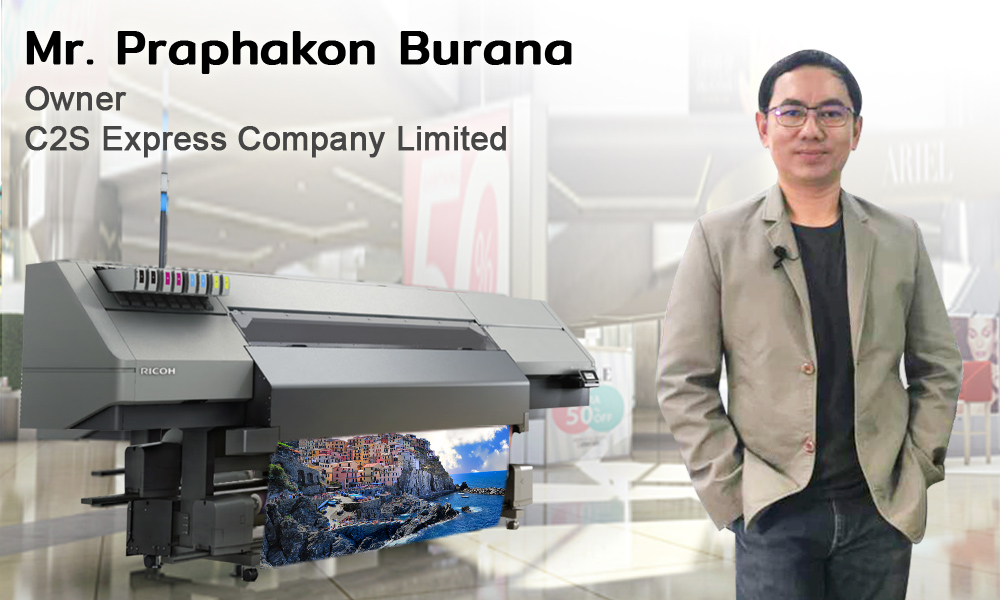 "In fact, I began from zero when I never had the know-how, information, and graphic expertise before. However, for us…, if we kept learning, we could do it one day. Now I was able to do everything", he said and told us about the beginning of his printing business.
Pro C5100S was the first technology that the company decided to invest. We received the opportunity from Ricoh to continue producing high-quality prints in the early stage. After that, we invested in the next device which was Pro C7100X. I personally changed to Pro C7200X and Latex Inkjet Printer Model Pro L5160.
He accepted that the strength of Ricoh was printing quality. For current product labels, the customers wanted to do the printing on premium-quality materials with different outcomes compared to the others. Ricoh fulfilled these requirements very well. For materials to be printed on silver foil, gold foil, hologram stickers, or some types of works that were product labels requiring aesthetic and bright colors, Ricoh had neon pink and neon yellow that normal CMYK color could not meet these requirements.
As the company currently operated several types of businesses including document files, company seminars, plastic envelopes, the company could apply digital printing technology to create outstanding prints for the customers.
Eco-friendly printing technology such as Pro L5160 was developed to reduce the temperature for printing. Accordingly, a lot of energy could be saved in line with the trend to reduce global warming. It also met the needs of printing on a variety of materials. We had a detailed print head that produced beautiful prints. Although the letter size posed some limitations, the images and colors of high resolution led to customer satisfaction.
He reiterated that although the company had produced prints for more than 14 years which was probably half of the journey and delivered printing quality of customer demand, the company continued to improve. The company hoped that Ricoh, our trusted company, would support C2S Express to move forward for sustainable growth.
"If you think of No.1 digital place, I would like to recommend Ricoh. If you think of premium prints, think of C2S Express. We provide on-time delivery and impressive service", he added.