Phuket Rajabhat University creates document and printing value with superior products from RICOH
Phuket Rajabhat University is an educational institution for local development. It possesses a vision of conducting the practice based on social responsibility and the mission of providing education and good quality research which focuses on developing the quality of life, tourism, technology, environmental management and cultural preservation.
With the realization that Phuket is a tourist city, Phuket Rajabhat University consequently collaborates with different sectors in the community by building a network for serving academic services to others. It also works with government agencies of the province, and provides services for both public and private sectors with the expertise from educators and professional scholars of the university to support the missions and goals as "The King's people and the local University".
Dr. Boonsuppa Tanthai, Vice-Chancellor of a Special Affairs Phuket Rajabhat University, talks about the university itself and document management. He says that the university greatly emphasizes on document management. Most of the documents are mainly printed in the university.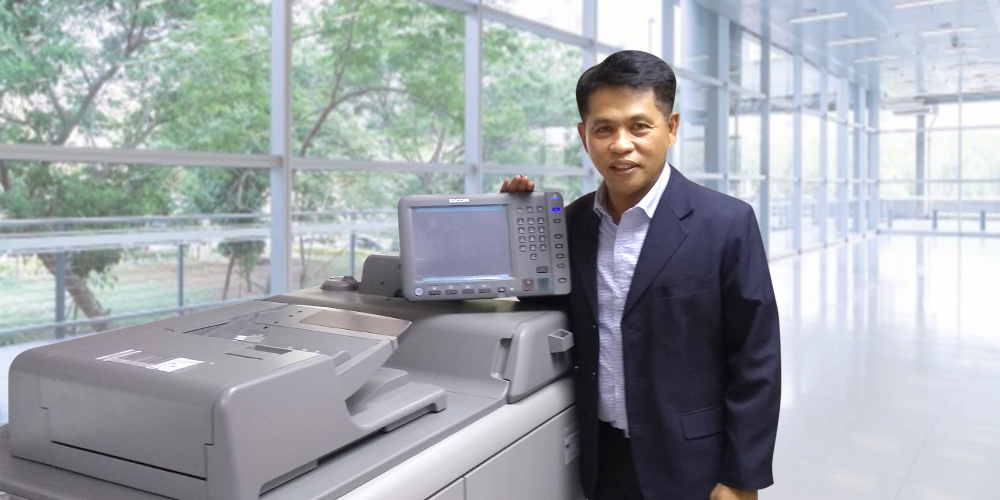 Dr. Boonsuppa adds that even though the world is turning into digital, and embracing more digital technology, documents and printed materials are still necessary. When the digital system comes in, that does not mean that documents will disappear instantly. This is going to be a long journey. Therefore, Phuket Rajabhat University still highlights the use of printed documents.
RICOH is the solution
Dr. Boonsuppa adds that Phuket Rajabhat University has been using RICOH products for several years. Currently, the university is still loyal to RICOH. The products are used by different departments in the university, which comprise 5 faculties and 1 college. All along, the university finds that RICOH is capable and innovative, which caters to the staff's requirements well. Besides the printers, the university uses other solutions from RICOH as well.
Phuket Rajabhat University has been using the products from RICOH on rental agreement. Dr. Boonsuppa says that the benefit from this kind of agreement is reducing the huge cost of buying new printers. Moreover, when the latest products or innovations are launched, the university can use the new technology immediately.
Good impression and value
Dr. Boonsuppa states that no problems regarding the printers from personnel and professors were found. RICOH's innovation and capability are great. The university also trusts RICOH's long reputation. Furthermore, the services the university receives are at a great level, and the staff have good service mind, which creates an impressive experience.