Princ Hospital Paknampo has confidence in RICOH multifunction printers
Princ Hospital Paknampo, a subsidiary of Principal Healthcare Ltd., is a private hospital in Nakhon Sawan. It has been open since 1989, consisting of 2 hospitals, which are Princ Hospital Pak Nam Po 1 and Princ Hospital Pak Nam Po 2. There are approximately 100 patient beds in each hospital. Medical services are available for both outpatients and inpatients. They are under supervision of specialized doctors and modern technology, which leads to excellent medical services.
Moreover, the hospital also has a professional team who can take good care of patients. Besides, the hospital is the first hospital in Thailand to be certified with the HIMSS Analytics Stage 7. It also receives the Hospital Accreditation (HA) of Thailand quality standard, ensuring that the hospital will provide the best treatment services.
Dr. Boonchana Petployngam, Director of Princ Hospital Paknampo, explains that the hospital understands changes of modern technology, which has been utilized to enhance the services and respond to the operation instantly. Apart from medical technology, the hospital also aims to develop information technology with the determination and vision to become a digital hospital.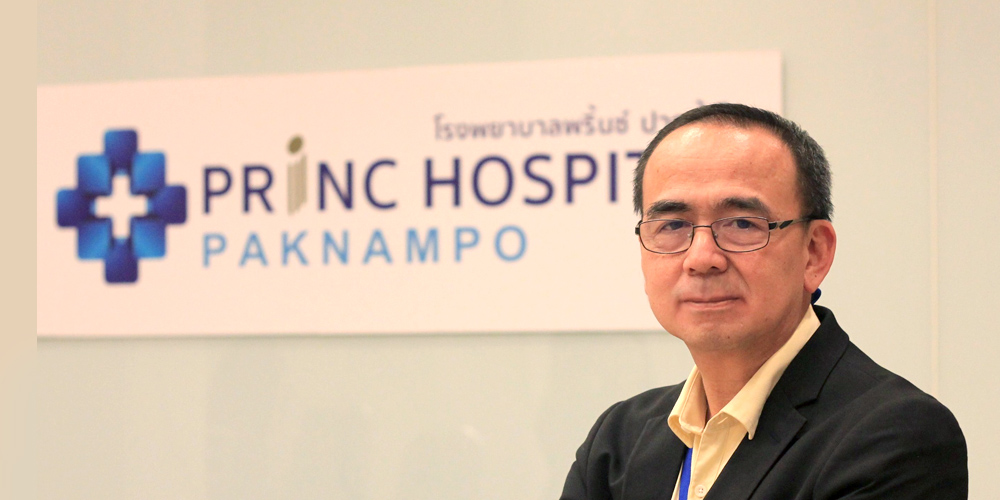 The director says that although many organizations try to change the management of their documents to be entirely digital. However, Princ Hospital Paknampo still gives importance to some management that still requires the use of papers, such as medical consent forms, medical certificates or receipts.
Having confidence in RICOH's potential
Princ Hospital Paknampo has confided in RICOH multifunction printers for 4-5 years. More than 60 multifunction printers are used in many departments for both branches for printing hospital-related documents. From its long experience, no problems are found. Moreover, the services from RICOH staff are quick, and they have a great service mind. When these factors are considered, the hospital consequently believes in RICOH.
Creating the value for the organization
Dr. Boonchana talks about the impression of the product by analyzing data from users. It is found that RICOH multifunction printers contribute to a clear printing. As for the services, the staff are doing a good job. These are the main reasons both branches of Princ Hospital Paknampho have been using products and services from RICOH until now.