Sukhondheerawidh School aims to make technologies available for students and staff
Mr. Tanit Panichayakul, Vice President of General Management Department, Sukhondheerawidh School, addresses the motivation behind the adoption of innovations and technologies among pupils and personnel.
Introduction to Sukhondheerawidh School
Certainly, the role of schools is to provide education. Therefore, Sukhondheerawidh would like to adopt new technologies and the most up-to-date knowledge to be applied in its school. If RICOH can achieve all these requirements, and can offer cutting-edge products, the school is more than delighted to continue using RICOH.
Efficiency of products and services Provided by RICOH
Mr. Tanit reveals that there are two groups of users; teachers and students. As for teachers, basic structures are provided for their convenience in teaching by the top management of the school. The teachers are satisfied as it is very convenient for them. They can just go to the classroom with one laptop, and then connect it with the projector and the audio system. It is really handy for them to utilize any teaching materials without the need to carry the projector to the classroom. As for students, the use of YSoft helps to facilitate their lives. Ysoft, which is characterized by the use of only one card to buy food and print documents, enables students to top up their cards themselves. They are responsible for their own usage, and are free to print any documents, and do some research within the time limit.
Speaking of copiers, at first, Sukhondheerawidh did not bring in any technologies. Therefore, there was a big pile of wasted paper. Later on, the usage with the implementation of YSoft is controlled. Teachers who need to print teaching materials have some quota of approximately 5,000 sheets. If the usage exceeds the given quota, they are required to top up their cards as the school has already calculated the appropriate quantity for them.
As for students, the most important thing for Sukhondheerawidh is to get its students to become familiar with technologies. Nowadays, this kind of system is commonly used in most universities either through applications or other methods. The school would like its students to learn through technologies and solutions offered by RICOH. When Sukhondheerawidh comes across some problems, it decides to consult with RICOH first. For example, RICOH assisted us in the selection of projectors and audio system in our classrooms.
Moreover, RICOH also gave the school consultancy regarding the outdoor audio system, and installed it. Also, the air-conditioners in every classroom were just changed, RICOH advised the school about the solutions, and delivered an impressive customer services.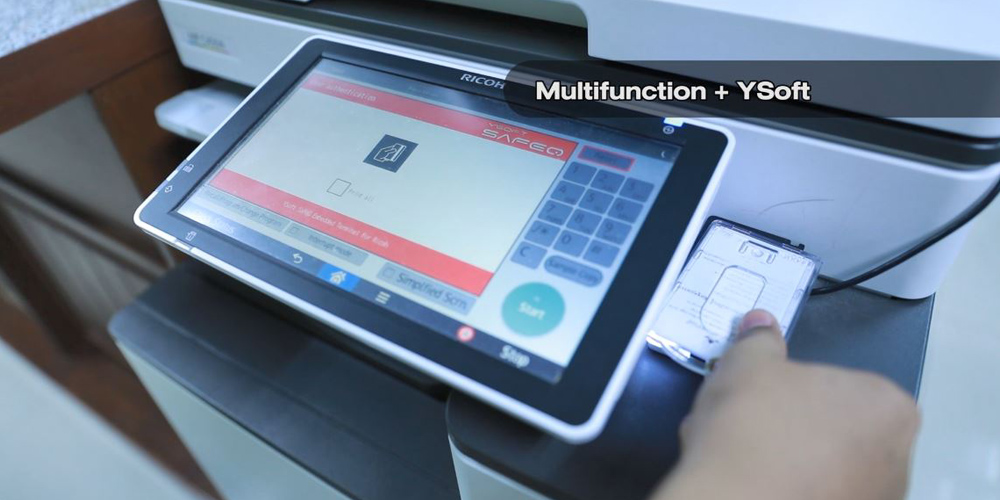 Key reasons for implementing technologies in the school
The first important reason is to allow its students to get a hang of new innovative technologies. The second one is that at first, Sukhondheerawidh purchased the computers, and also took care of the maintenance itself. After 4-5 years, they became electronic waste. Eventually, Sukhondheerawidh consulted with RICOH with the determination to empower its students with new technologies and maximize the investment. Being asked what the most important reason in choosing RICOH is, Mr Tanit reassures that RICOH's customer relationship is outstanding.
Confidence in RICOH
Mr. Tanit also confirms his belief that until now, RICOH is second to none. With quality products, staff, and management, he is confident that RICOH can take a good care of Sukhondheerawidh consistently.