Thaksin University develops document management system and IT system with RICOH solutions
Thaksin University is a leading tertiary educational institution in the Southern part of Songkhla. It has a vision to develop its students to meet the demands of the society by learning from their direct experience in the community. In addition, they should be able to produce quality research and creative work which can be used for academic, social and commercial purposes. Furthermore, the university aims to develop the management system that is efficient, effective and has good governance.
Moreover, Thaksin University also participates in the preservation of art, culture, which is considered as a very important part of the university. In addition, the Fine Arts Department subsidized the construction of a building called Prem Don Tri Hall, which is ranked as one of the three most beautiful music galleries in Thailand. This is a great portrayal of the importance of this university.
Dr. Kittithat Khongchawan, Assistant to the President of Thaksin University, states that the mission that follows the above vision is what the university aims to practice. However, Thaksin University also emphasizes on the development of academic matters, including the intensive teaching from faculties such as humanities, social sciences, education, economics, and laws, etc. The university constantly supports activities for its students, and will continue to do so. Currently, there are more than 100 activities and clubs.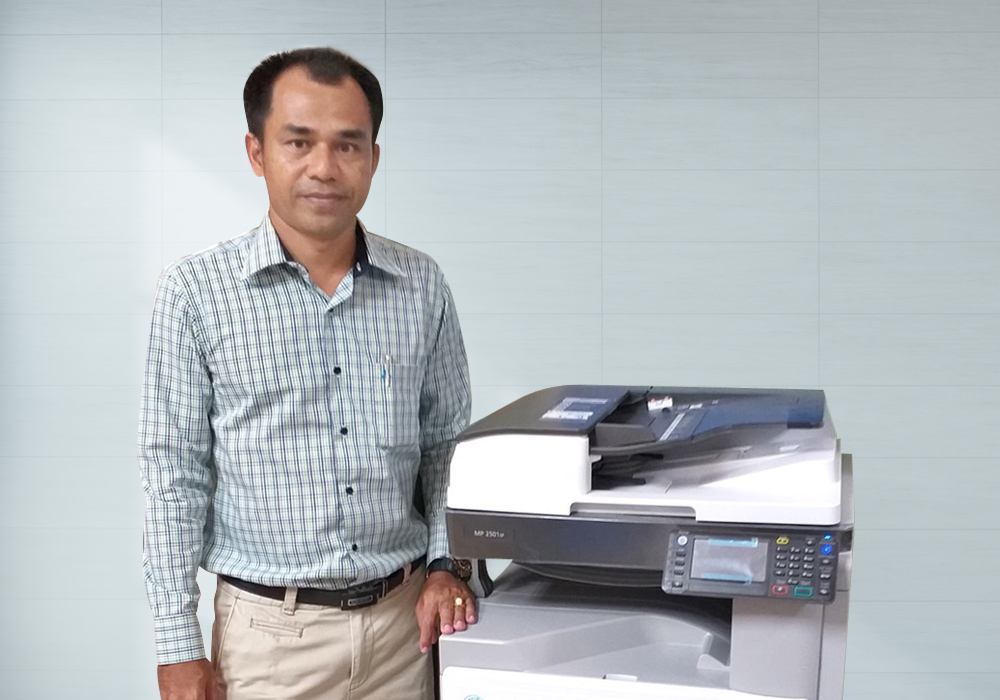 Choosing RICOH for systematic document management
Based on the policy, Thaksin University has two types of document management, which are digital format and printed documents. The number of printing documents is huge and keeps increasing in every department annually. The use includes preparation for teaching and research, teaching materials, and exams, which requires a large number of printers and copiers.
Dr. Kittithat adds that a lot of printed documents in the university require an efficient printers and copiers. Considering the reputation of the organization that has long been recognized in the industry ensures the university in choosing RICOH products, which are multifunction printers. Besides, RICOH staff are excellent, taking a good care of the university, and advising on many related tasks.
The Assistant to President also mentions about the IT systems used in the university, especially in computer office with a lot of rented computers. The university has consulted with RICOH team to provide suitable computer solutions. He also states that working with RICOH is great because RICOH offers good services, and truly understands the university's needs.
Giving good quality and services
Thaksin University has a mission and a vision to driving changes for its document management. Using RICOH's printing solutions accelerates the university to reach that point due to RICOH's performance that meets the requirements, the new and constantly updated features as well as good services from RICOH staff in terms of printing and providing computer and IT systems. The university finds it all worth it.