5 Ways Continuous-feed Inkjet Enhances Value
Today's presses offer automation, many applications and a sound investment in the economic recovery.
As the print industry's economic recovery begins, continuous-feed inkjet offers print service providers the chance to profit, improve customer service, boost productivity and strengthen sales.
According to the PRINTING United Alliance and NAPCO Research Chief Economist Andrew Paparozzi, industry sales are growing. Confidence is on the rise. But operating-cost inflation and labor shortages are squeezing margins industry-wide. As a result, he says, maximizing productivity and working smarter will be as important during the economic recovery as it was during shutdown.
Paparozzi says that the printing companies most likely to benefit from the recovery are those that make capital investments to boost efficiency, speed and automation while cutting steps out of processes.
Continuous-feed inkjet represents such an investment. Key features that make these presses attractive are their reliability, the quality of their output and their ability to print at high speeds. Continuous-feed inkjet offers print service providers not only high application flexibility but also cost efficiency and productivity. This is enabling print providers to respond agilely to market trends, improve profitability and pursue new opportunities. All of these factors make it an ideal investment for counteracting rising costs and employee shortages.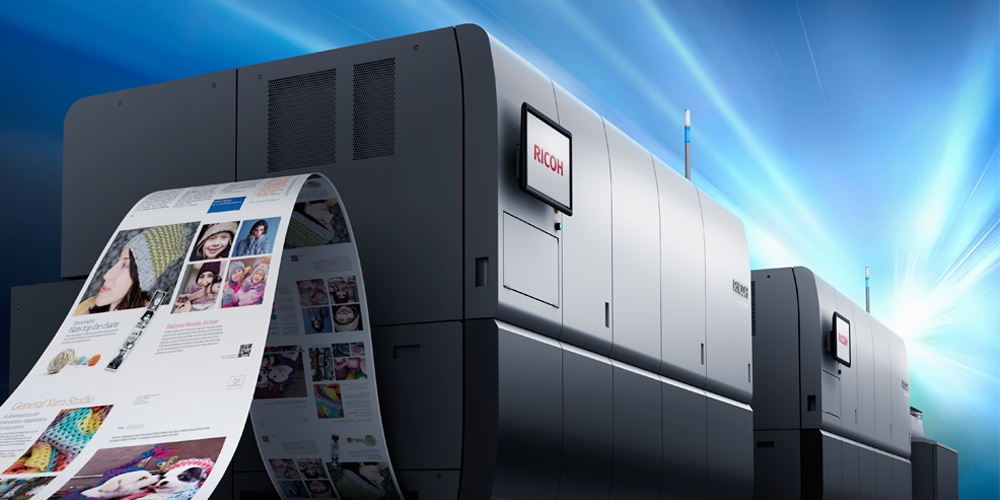 Here are five ways that continuous-feed inkjet presses offer value to commercial print providers.
1. More automated production to counteract staffing shortages.
Compared to offset printing, the inkjet process involves fewer steps and faster makeready. Overall, inkjet presses take less work to operate. Print service providers (PSPs) are now facing a challenge in recruiting skilled job candidates. According to NAPCO Research's 2019 study "Recruiting and Retaining Workforce Talent," 80% of survey respondents find it difficult to fill production positions. Post-pandemic and following a wave of retirements by skilled operators, it has become even harder. The automation and ease of operation of continuous-feed inkjet presses make them poised to help print providers overcome production staffing challenges.
2. New application opportunities.
Continuous-feed inkjet is a proven technology for books, direct mail and transactional documents. Books in particular are a strong opportunity area for continuous-feed inkjet. Initially, sheetfed digital color toner presses were the only digital printing devices that could produce acceptable quality for book publishers, though with limited run-length capabilities. Advances in continuous-feed inkjet technology have removed the quality barrier. As for direct mail, inkjet makes possible efficient personalization, a key to improving recipient response. Applications that call for high-quality graphics and were traditionally produced only on offset presses, such as catalogs and magazines, are now also suitable for inkjet presses.
In addition to its advances in image resolution, inkjet technology is compatible with a wide range of substrates from 40 gsm up to 350 gsm. Most importantly, it can print on coated paper. Most brochures and other marketing collateral, as well as folded direct mail, postcards, catalogs, calendars, magazines, book covers and some forms of direct mail require coated paper.
3. Lowered cost barrier to adding more color.
With high-speed inkjet, the cost per impression for both color and monochrome is nearly identical. This lets print providers produce full-variable color on every page.
Whether printing books, direct mail or transactional documents, high-speed continuous-fed inkjet presses offer significant opportunities for adding color. Clients for whom printing in color was previously cost-prohibitive can now do it. Publishers can add color to books and transactional customers can use color to highlight sections of invoices and statements to make them easier to understand.
4. Run-length versatility.
Continuous-feed inkjet is known for its fast-running speeds, productivity and longer duty cycles. It lets smaller shops take on higher-volume jobs. At the same time, its low running costs and high levels of automation make it cost-effective for producing shorter runs.
5. Personalization.
Inkjet opens a world of new opportunities for brands, publishers and content owners looking to leverage personalization and color. Full-color variable content can be printed in one pass because continuous-feed inkjet removes the need for a twostep process (in which offset-printed color shells are overprinted digitally with monochrome text) to personalize direct mail. With inkjet, the entire job can be printed on one device, saving time and money. This process also presents an opportunity for customers to redesign communications so that personalized monochrome messaging can be presented in color to capture more attention. Moreover, full-color images and messages can vary across the print run to target individual recipients.

Continuous-feed inkjet presses offer print providers many benefits, including variable imaging, a wide range of paper grades and weights, and high-resolution quality that meets the standard for most applications. These digital printing devices are an attractive solution for producing books, folded mailers, magazines, catalogs, brochures and direct mail postcards at competitive costs and levels of productivity.