Press Release RICOH L5160
Ricoh empowers print providers to broaden revenue streams with new latex large format devices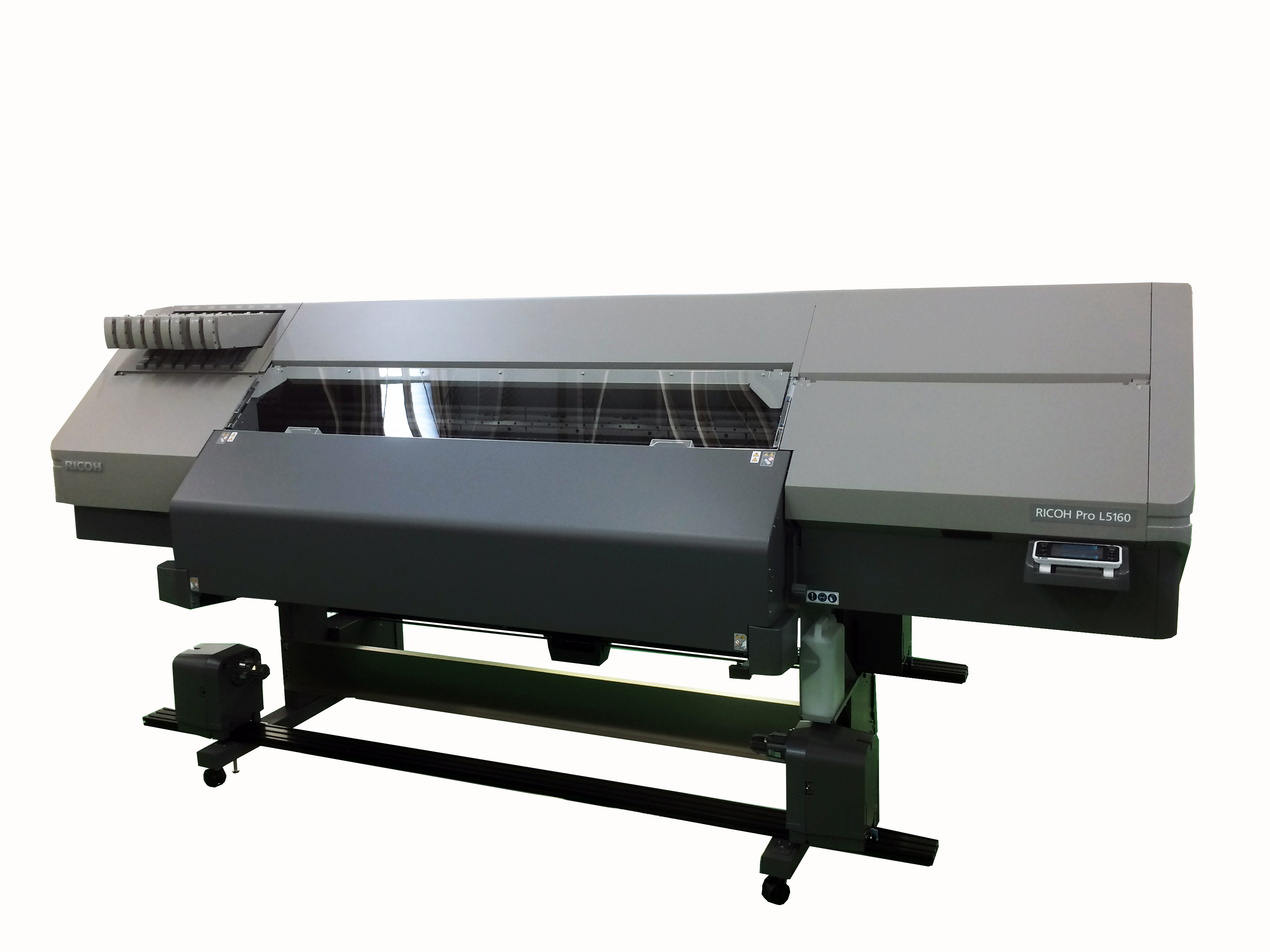 Progressive printers and Sign and Display specialists' needs for faster short run production, broader job capabilities and enhanced productivity will be met by Ricoh's two new next generation Ricoh ProTM L5130/L5160 latex roll-to-roll printers.
The newest additions to its fast growing Sign and Display print portfolio are unveiled. They print at segment-leading speeds of up to 44sqm per hour in outdoor standard mode and 25sqm per hour in indoor standard mode the series produces applications up to 1,200 x 1,200 dpi.
The Pro L5130/L5160 series' speed combine reliability and media versatility to make it an excellent choice for today's print providers. Additional features include automated maintenance, a durable design, Ricoh's GREENGUARD-certified latex inks and industrial-grade Ricoh print heads. Its curing technology ensures jobs produced are output ready for finishing as soon as they are printed while a three-way intelligent heater helps prevent melting or warping of thinner substrates.
With CMYK and CMYK plus white options available, high ink opacity and adhesion enable the production of crisp, clear prints for a variety of applications on substrates that range from wall coverings to window graphics to backlit day/night signage. Substrate flexibility is built in with support for two and three inch roll cores up to 200gsm and media up to 64 inches wide.
"These agile and versatile solutions are suited to a broad range of end use applications," says Korapat Wongananchai, Commercial & Industrial Printing Division Manager, Ricoh Thailand. "The Ricoh Pro L5130/L5160 Series combine Ricoh inks, Ricoh print heads and Ricoh design, to empower users to deliver the kinds of applications their clients are looking for – quickly, easily and to a very high quality.
About Ricoh
Ricoh is empowering digital workplaces using innovative technologies and services enabling individuals to work smarter. For more than 80 years, Ricoh has been driving innovation and is a leading provider of document management solutions, IT services, communications services, commercial and industrial printing, digital cameras, and industrial systems.
Headquartered in Tokyo, Ricoh Group operates in approximately 200 countries and regions. In the financial year ended March 2019, Ricoh Group had worldwide sales of 2,013 billion yen (approx. 18.1 billion USD).
For further information, please visit www.ricoh.co.th