X Campus Ads Idea Contest 2019
RICOH Encourages Creativity among New Gen via X Campus Ads Idea Contest 2019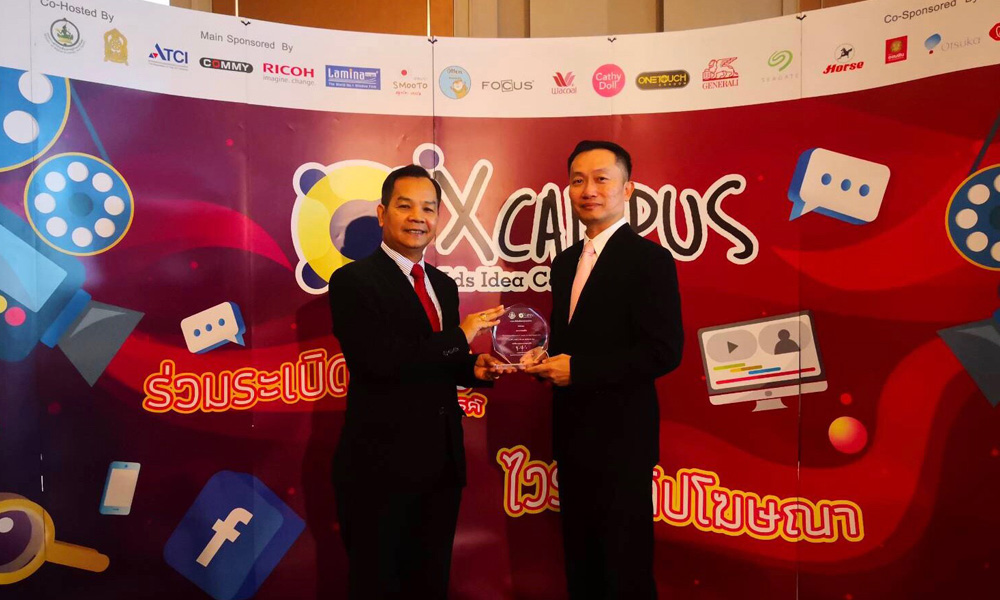 Ricoh (Thailand) Limited sponsored the program "X Campus Ads Idea Contest 2019", which is one of the activities under by Ministry of Digital Economy and Society (MDE) and The Association of Thai ICT Industry (ATCI), Ministry of Education and Thailand's leading universities across the country. Every section realizes the importance of the optimization of digital technology in educational sector by encouraging students to express their creativity and learn outside the classroom to align with Digital Economy strategy about driving the economy with digital technology and develop people to b ready for digital economy. Plus, a scholarship of 200,000 Baht was awaiting the winners.

Contestants are required to promote the features of production printer, RICOH Pro C7200 series, which does not have only CMYK, but also white, clear, neon pink, neon yellow and invisible red for fresh creativity in printing. RICOH offers an opportunity to students to fully express their capability.

This event "The Winner Award X Campus Ads Idea Contest 2019"; was the final round which included the 2 teams of the contestants who created RICOH videos
BU Champion Team from Bangkok University: presented the concept of office environment by utilizing 5 special colors which include white, clear, neon pink, neon yellow and invisible red, of production printers "RICOH Pro C7200 series" It is presented in a way that the protagonist is like a best friend who supports an employee to achieve his tasks.
Indy from University of Thai Chamber: created animation video to make a difference. The story is inspired by the hit drama about dimensional gateway by reciting an ordinary girl who opens a portal to another dimension and encounters the world of colorful and cheerful party created by RICOH Pro C7200 series.
RICOH believes that supporting Thai students to express their creativity will help them to become an important part of the nation who can express themselves and drive the country forward to catch up with the fast-changing technology.